Are you a teacher in Barcelona? Take advantage of our free teacher training workshops at our centre next to Passeig de Gracia.
These workshops are open to any TEFL teachers who are interested in learning some tricks of the trade from experienced teachers. From using phonetics in the classroom to theatre with adults and young learners, attendees to these workshops can expect to pick up a variety of tips to take into their own classrooms. All workshops are free to those who confirm their attendance by emailing [email protected]. You can attend as many as you like but places are limited so be sure to get in touch early to avoid disappointment. We look forward to seeing you there!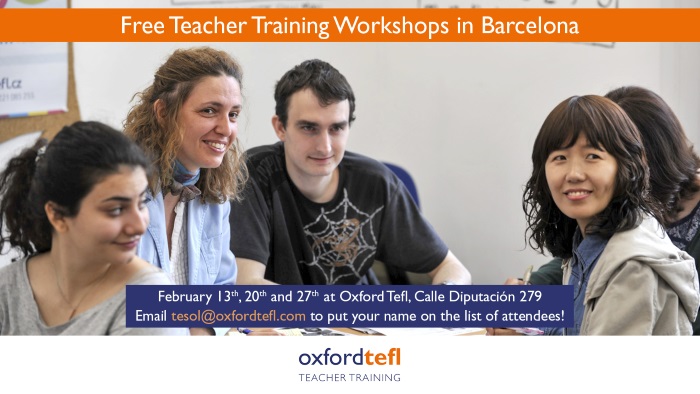 Friday February 13th
11.00 "Teaching Writing for Exams – the tricks of the trade" by Melody Philip,Teacher Trainer.
12.10 "Using theatre games in class" by Andy Travis, Oxford House Teacher and Actor.
Friday February 20th
11.00 "The physicality of sounds – using the phonemic chart" by Laila Kairat, Teacher and Children's Educator.
12.10 "Recycling vocabulary – you can say that again!" by Eleanor Walker, Cambridge Examiner and Teacher Trainer.
Friday February 27th
11.00 "Clever ways of using mobile phones for learning" by Kat Robb, Dip TESOL graduate and teacher.
12.10 "Making the most of a mixed level classroom" by Gabriella Albano, Teacher Trainer.