If you are in Prague, warm up by joining us in our school in the centre of the city and take advantage of these free teacher training workshops. As usual, there will be a mix of sessions covering a wide range of areas. Pick up some practical tips for your classes, learn more about teaching styles and observe experienced teachers and trainers in an interactive environment.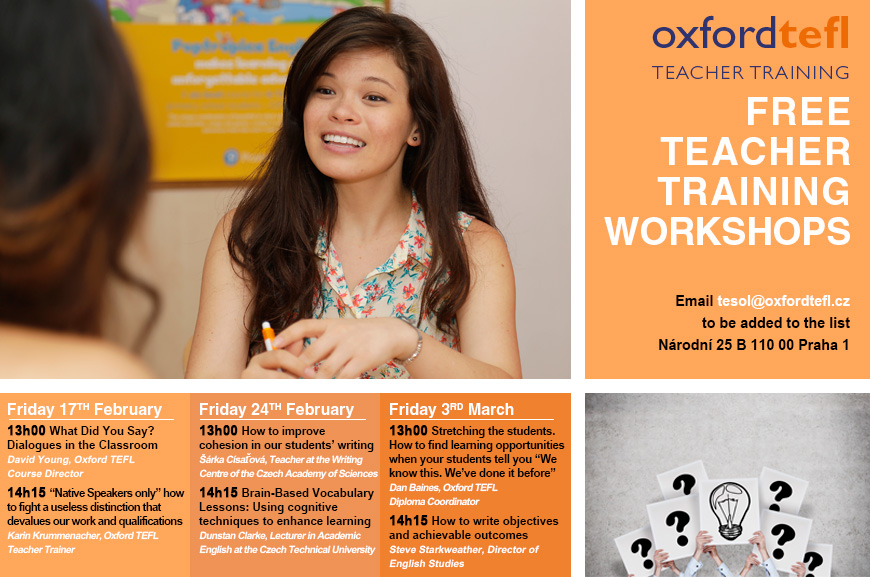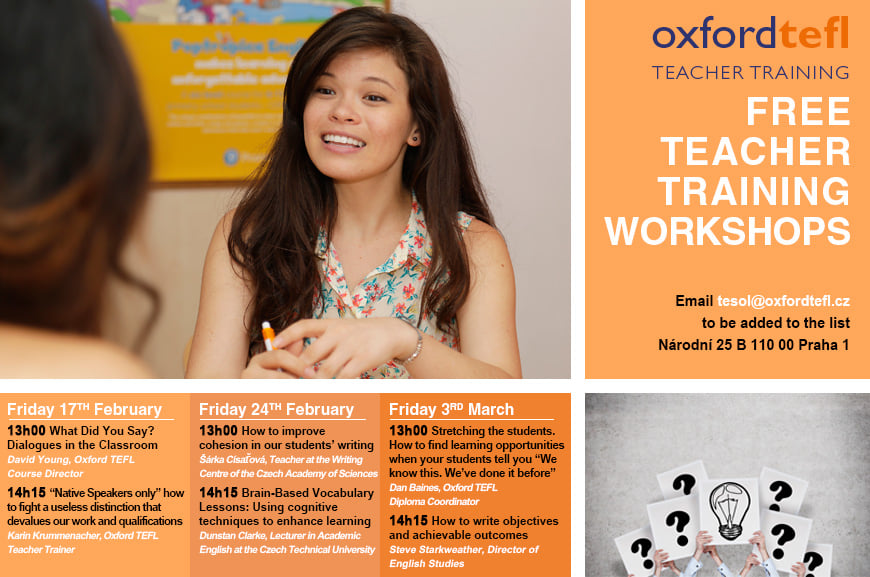 Friday 17.02.2017
13.00  – 14.00 What Did You Say? Dialogues in the Classroom – David Young, Oxford TEFL Course Director
There are plenty dialogues to be found in the coursebooks we use, in this workshop you get practical ideas you can implement in your classroom immediately to make the best use of them and speaking activities. 
14.15 – 15.15 "Native Speakers only" how to fight a useless distinction that devalues our work and qualifications – Karin Krummenacher, Oxford TEFL Teacher Trainer
Even though hiring "native speakers" only is against EU law it is still common practice in many schools in the Czech Republic and other countries. Let's discuss how we can fight this useless and archaic distinction and stop it devaluing the achievements of native as well as non-native English speaking teachers.
Friday 24.02.2017
13.00 – 14.00 How to improve cohesion in our students' writing – Šárka Císařová, Teacher at the Writing Centre of the Czech Academy of Sciences
Since current B2/C1 textbooks fail to introduce the key principles of creating cohesion, this interactive workshop will present practical activities that you can use with your learners when teaching writing and giving feedback. The workshop could be especially useful for teachers of exam courses to overcome common problems such as overly formulaic writing, overusing transition signals or false cohesion.
14.15 – 15.15 Brain-Based Vocabulary Lessons: Using cognitive techniques to enhance learning – Dunstan Clarke, Lecturer in Academic English at the Czech Technical University
Why can't your students remember the vocabulary you taught them last week? Find out how to use cognitive techniques to enhance your students' learning in this hands-on workshop with Dunstan Clarke. 
Friday 03.03.2017
13.00 – 14.00 Stretching the students. How to find learning opportunities when your students tell you "We know this.  We've done it before" – Dan Baines, Oxford TEFL Diploma Coordinator
When you are tied to a coursebook, you will inevitably come across topics and language students have already seen. This workshop will look at ways to give the students a sense of learning even when they say "we already know this". 
14.15 – 15.15
How to write objectives and achievable outcomes – Steve Starkweather, Director of English Studies
How difficult do you find it to write objectives for your lessons? Is it a part of your lesson plan you frequently skip? How do you measure your outcomes? Learn how to make the most of objectives and outcomes and your lessons more effective. 
If you'd like an idea of what these workshops are like, take a look at some photos of our November 2016 workshops. To sign up for these workshops, simply email tesol@oxfordtefl.cz and specify which workshops you'd like to attend. We hope to see you there!